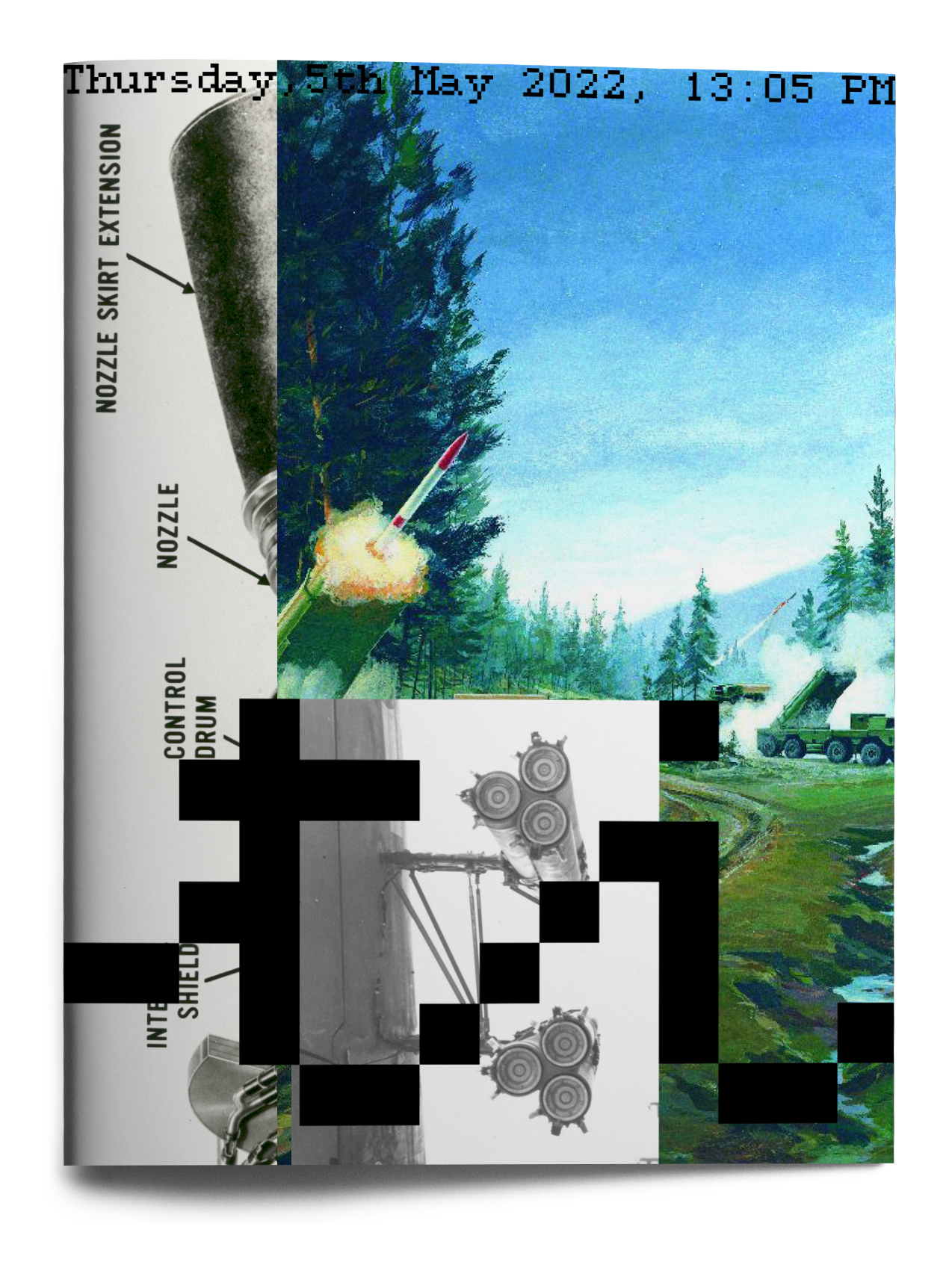 2. And it was like this. Someone said, whispering: "Isn't it so beautiful? It looks like a flower, as big as a flower, as striking as a flower, but it's not a flower, you know". And the lights went out. I walk bewildered through a red corridor, and at the end, a television set with war images, war images in black and white, and little by little, as time passes, as the years pile up, colors are added, and the images overlap and become a big mass, but what is this mass made of? and why the corridor stopped being red and became an access to darkness? and there are no more colors except through the television monitors, which no longer show images of war, they only show bright points, thousands of bright points, which form other points, like sunbeams, and I realize that I am not alone inside that room, that I am surrounded by thousands of people, who watch with astonishment, perplexed by an image spectacle, of seeing with our own eyes everything that we knew as an image get lost in a great cloud of bright rays. and hours and hours passed since the beginning, and the lights came on, and the dark corridor that used to be red no longer existed, the screens went back to being mere televisions, the images went back to being just projections, memories, mental images. and all the images of war, all the suffering, all the colors, all the expressions, became far away, became something distant, tasteless, cold, untouchable, and we breath relieved that all of this was just a controlled experiment and we breathe relieved until we cross the exit door, and face what was the real part of what was real that we watched.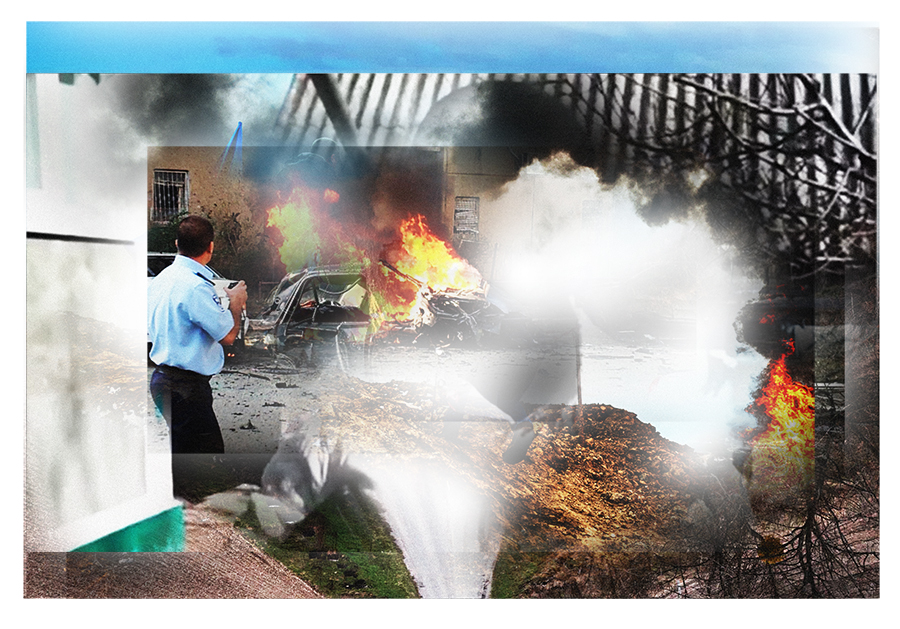 Untitled (Men at work), 2022. C-Print, 60x80cm.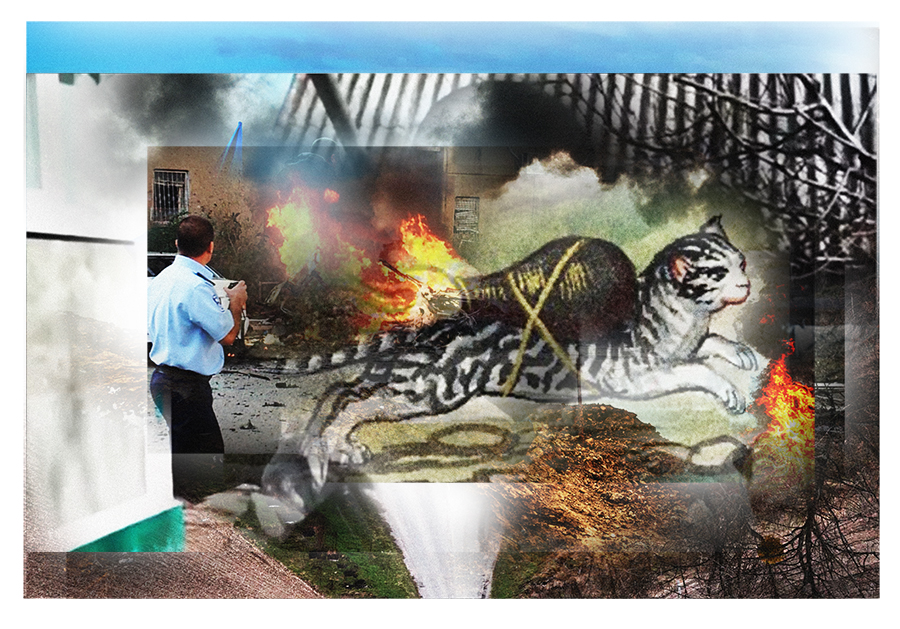 Untitled (Men at work), 2022. C-Print, 60x80cm.

Untitled (Men at work), 2022. C-Print, 60x80cm.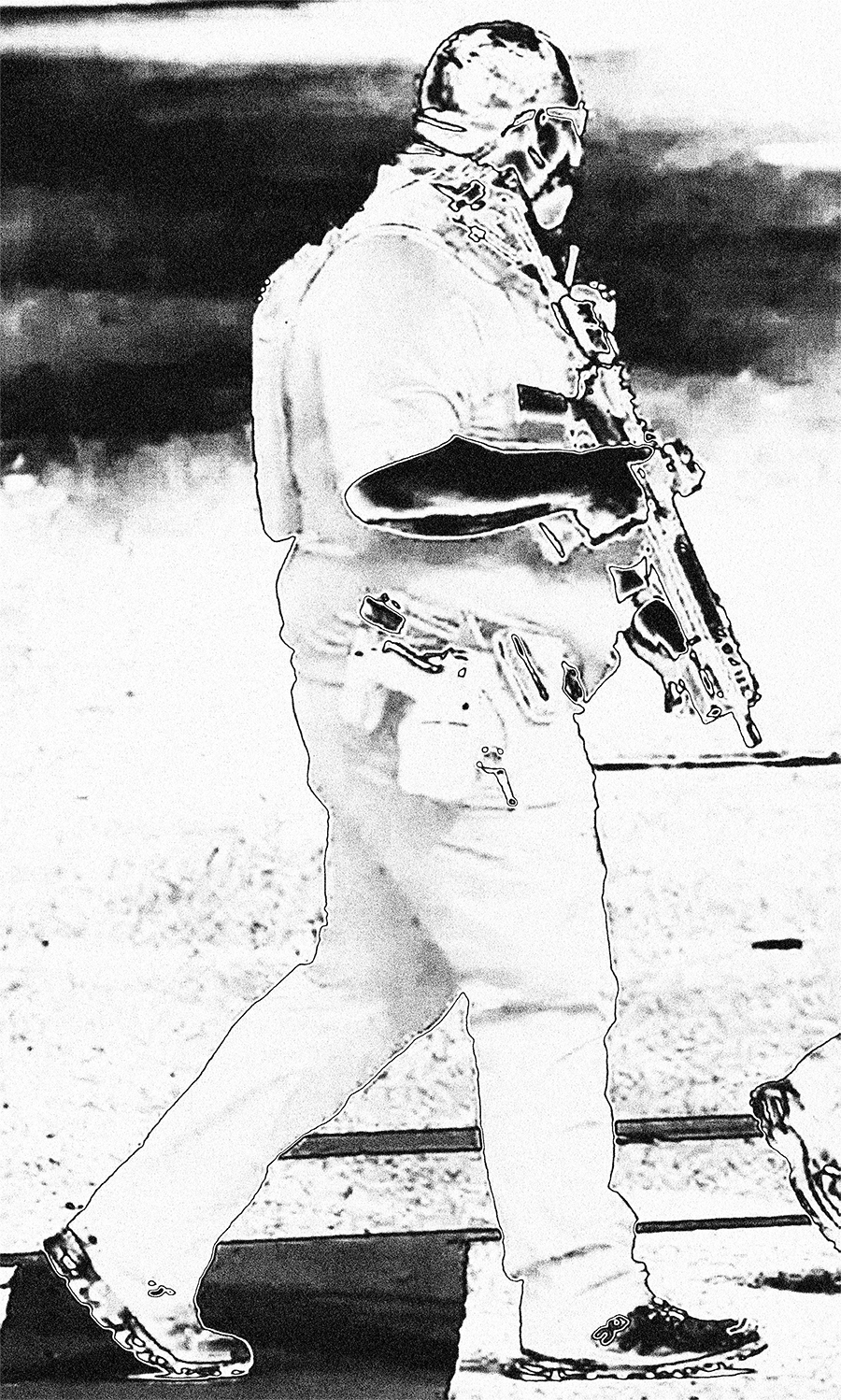 Untitled (Men at work), 2022. C-Print, 60x80cm.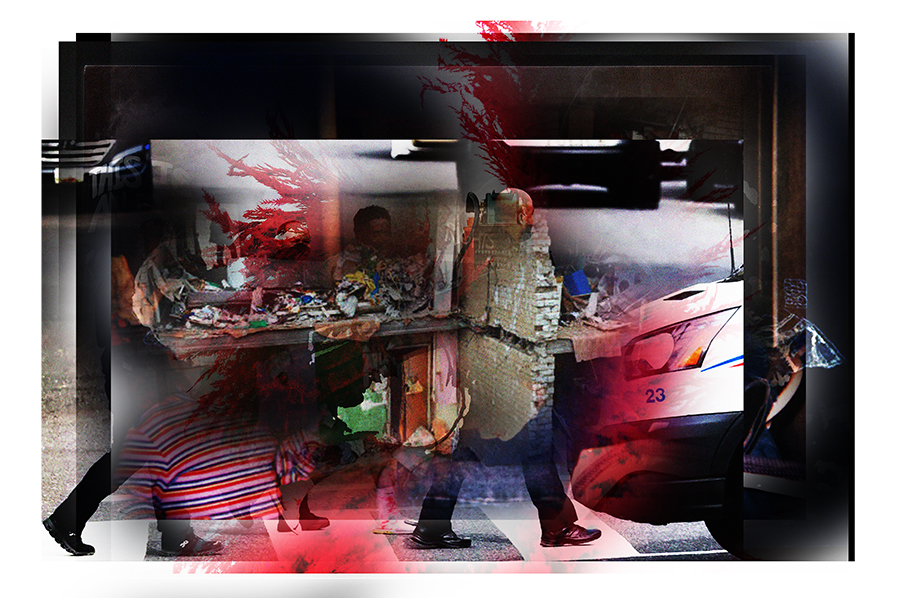 "Ocurrence" N°1 2204, 2022. C-Print, 80x60cm.
XXXSpace, 2022. 18m10s, sound, color.

Expressions&Gestures&Positions, 2021-ongoing.
1. To collect. A box. A system. A method. Everything is made to be stored, gathered, organized, related, interpreted, worn out, deified or demonized. We live in a system of great dichotomies, starting with the single page or double page system. Look at how many guns that man keeps in his closet, under his bed, in the glove compartment of his car, in a box where family photos, relics, personal objects, secret objects, worship images are also kept. A man who carries a gun, who worships a gun, carries with him all the images attributed to the symbol in question. Everything can spring from an image, either desire or anger, either love or war, a rebellion, a revolt. I see. You see. We see. They saw that I saw, so we are all witnesses of something. I was there, I saw it live, and you? You didn't see the same thing I saw, you saw the reproduction of what i saw, so we saw different things. I can't tell you what i saw, you can't tell me what you saw, but I can see what you saw and relate it to what I saw. And what I saw will be more the thing that you saw than what I saw; the colors, the shapes, the angles, the proportions. From now on, the image that you saw is the one that counts, it invaded me, it is part of me. My report without images is not as strong as your visual presentation. Without an image, that sound can be sound from anywhere. The evidence of a crime that becomes the image of a crime. Cut to the image of the man with a bible on the television, the image of the image, who finds the image to be worshiped. What image? What images? Images of rituals. Speeding up and not paying attention to the images that appear along the way. Next act. Ignoring all kinds of definition, of resolution, of quality. Ignoring all the rights attached, being free of rights, having no rights to any image. Organizing images like we organize socks in a drawer, looking at everything with suspicion and indifference, disorganization as a method of enlightenment. An obsessive practice, some might say, but it is our way of dealing with the world, of using the world, the images of the world, as a plastic material, in the same way that a garbage collector deals with leftovers that until yesterday were part of someone's life and today are just the leftovers of the leftovers, in an endless pile. We are living in an endless pile of images. You see that woman who keeps a box of images, her newborn children, her mother's mother, the trips, the weekends, the ones that are gone, memories in a box. You see that boy who carries a cell phone with more than fifteen thousand images saved in the cloud. And now all the videos that were accessed over the course of a year; binge-watching as a contemporary ritual and drug. All the hours watched, consumed, paid for. Collection as method, like museums do. Collection as gesture, like garbage collectors do. And along with the gesture of collecting, comes the gesture of assembling and creating conflicts. What do I keep that you don't? What do we keep in common? Keep for what? The photographer who no longer knows what he shot. The overloaded server at the news site. Today's images are no good for tomorrow. Yesterday's images are good for what? Green light. Red light. Starting point.